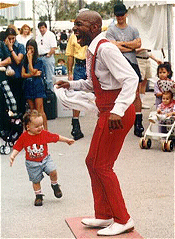 Inspiration
Movin' Melvin has met many friends during his worldwide travels these past few years. He has touched many hearts in Australia, Canada, Europe, Asia, Africa and the United States. His deep and cultivating laugh can make audiences forget about worries and live in that moment of happiness. 
Movin' Melvin's life of entertaining on stage, through television and film and through his numerous recordings has led to the creation of his one man show. A show that  continually delights folks of all ages from around the globe. 
His shows entertain worldwide audiences through dance, song, storytelling and humor. What a refreshing sense of hope this man brings to the world . . .
Share the Joy
Now, Movin' Melvin Brown offers you the opportunity to share in his joy and to improve
your health through his music, books and health DVD. Sale of these products also helps support the "Change This World Project", which is an on going project to help homeless people in Austin, Texas.
"As a Man Thinketh" is a compilation of inspirational verses, poems and essays that reflect the thoughts of a man who is passionate about changing this world. His belief that our thoughts create our reality forms the basis for his writings about life, peace, happiness, and most of all love. Open the book to any page, and you will be inspired to think differently about your life, your relationships and about our collective future as a civilization.
"As a Man Thinketh"
Book $19.95

US shipping & handling $5.00
International shipping & handling $10.00
Orders
Shipped to US

International Orders